CROCHETED ANTIQUE FLOOR RUNNER RUG

3' X 14', cotton, c. 1930s-40s


RAG CARPET VINTAGE RUNNER, unusual 'twist' weave, wool, Maine

2'2" x 18', c. 1940s, wool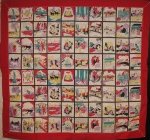 48 STATES 1950s TABLECLOTH

smaller square


AMERICAN FLAG 40 STARS ANTIQUE FLAG
AMERICAN FLAG 50 STARS VINTAGE CROCHET

22" x 44" cotton crochet 50 stars


AMERICAN FLAG UTAH 45 STARS ANTIQUE

52" x 64"


AMERICAN FLAGS CROCHET VINTAGE COVERLET

c. 1930s-40s, cotton crochet yarn


AMISH ANTIQUE RAG CARPET available in multiple rolls, room size. INQUIRE
AMISH ANTIQUE RAG CARPET unusual color combination

40" (need to check width) x 12 feet long


AMISH NEEDLEWORK PILLOWS vintage, several available

mostly 20" square or larger, wool, c. early 20th c


AMISH UNRAVELLED YARN ANTIQUE RUG

c.late 19th-early 20th c, 2' x 3', Very good condition, minor loss


AMISH VINTAGE RAG CARPET 3 rolls available 24' each

2'10" x 22' three rolls, c. 1940s, Amish, unused condition


ANTIQUE MOTTO 'GOD BLESS OUR HOME'

original frame


ANTIQUE MOTTO - 'HOME SWEET HOME'

in original frame


BATES VINTAGE BEDSPREADS, COMPASS PATTERN, A PAIR
BEACON VINTAGE BLANKET slate cheddar yellow horizontal bands

78 x 80, cotton, c. 1940s


BEACON NAUTICAL VINTAGE BLANKETS- two available

1940s, 68 x 74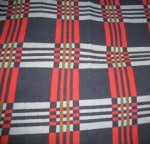 BEACON PLAID OMBRE ANTIQUE BLANKET Red Blue

58 " X 60" plus fringe border


BEACON VINTAGE BLANKET 12 medallions,navy blue and red

c. 1930s, cotton, mint as new condition


BEACON VINTAGE BLANKET green, grey, cheddar triangles Indian geometrics
BEACON VINTAGE BLANKET intricate geometric bands warm colors

72 x 80, 'wool nap' cotton, c. 1930s


BEACON VINTAGE BLANKET intricate plaid with Indian geometrics

74 x 78,wool nap' cotton, c. 1940s


BEACON VINTAGE BLANKET large zigzag geometrics

76 x 82, 'wool nap'cotton, c. 1920s


BEACON VINTAGE BLANKET ombre'd plaid

c. 1930s, cotton in mint condition


BLACK AND WHITE CHECK ANTIQUE BLANKET, SHAWL

68" x 90". wool, 19th c


BUGGY SHAWL brown with white plaid pattern

wool, square with fringe


CALIFORNIA 1950S TABLECLOTH WITH NAPKINS, red

uncommon. with original napkins


CAMEROONS AFRICAN HANDWOVEN INDIGO MAN'S WRAP

mid 20th c, 4' x 12' approx


CATALOGNE VINTAGE COTTON BEDSPREAD OR RUG, ask for photos of many others in inventory

3' x 12' (4 yards), c. early 20th c, cotton


COUNTRY PLAID WOVEN TABLECLOTH

rectangular with all fringe


DOUBLE DAMASK RED AND BLUE TABLECLOTH

square with applied handmade fringe


DOUBLE DAMASK RED AND WHITE TABLECLOTH

REVERSE SIDE IS RED ON WHITE


EMBROIDERED ANTIQUE TABLE COVER, Maine

square, wool, late 19th century


FRENCH BARRAGE LINEN BEDSPREAD, antique homespun

hand woven in three panels, queen or king size, early 19th c


GEOMETRIC REPEATS ANTIQUE INGRAIN CARPET

6' X 8', 2 panels, reversible


HEBREW WESTERN WALL ANTIQUE NEEDLEWORK 1902

c. 1902, 20 1/2" high x 24 1/2" wide, Excellent original condition


SALE:
$ 3,500.00

$ 2,500.00





HORSE AMISH ANTIQUE TABLE RUG mounted

30" high x 48" wide, wool; c.early 20th c; stretcher mounted; excellent condition


HORSE BLANKET antique red and camel plaid

81" x 87", wool


HORSE BLANKET antique, ochre and caramel plaid

82" x 83"


HORSE BLANKET antique, blue, green plaid

81" x 87", wool