AFRICAN AMERICAN ZIPPER ANTIQUE QUILT
PATRIOTIC ALBUM HOOKED RUG room size
PATRIOTIC EIGHT POINT STAR 1918 ROYAL NEIGHBORS OF AMERICA ANTIQUE QUILT

c. early 20th century, cotton, 93" square


PETITE EIGHT POINT STAR WITH MANY MOTIFS IN BORDERS ANTIQUE QUILT

70" square, c. 2nd quarter 19th c, cotton and chintz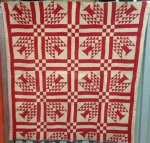 RED TREES ANTIQUE QUILT

68" x 74", c. 1880s, cotton


CROCHETED ANTIQUE FLOOR RUNNER RUG

3' X 14', cotton, c. 1930s-40s


CYANOTYPE NEW ENGLAND COUNTRYSIDE ANTIQUE PHOTO TEXTILE

late 19th-early 20th - Frame: 30 1/4" x 19"| Image: 19 1/4" x 19" - Excellent condition


PENDANT LIGHT FIXTURE, STAINED GLASS PANELS ANTIQUE Arts & Crafts Era era

green painted frame, stained glass on all four sides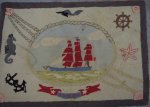 SHIP ANNETTE ANTIQUE HOOKED RUG

c. early 20th c, wool on burlap


STRIP BARS WOOL ANTIQUE QUILT, five panels

c. mid 20th c, Tennessee origin, wool


PENNY MAT ANTIQUE FOLK ART black and camel and camel

c.1920, 2'1" x 3'4"


'THE LORD IS MY SHEPHERD' ANTIQUE HOOKED RUG

wool on burlap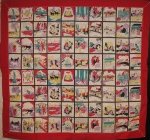 48 STATES 1950s TABLECLOTH

smaller square


ADVERTISING FOLDING VINTAGE GAMEBOARD

checkerboard


AFRICAN AMERICAN DENIM 'BRITCHES' ABSTRACT VINTAGE SOUTHERN QUILT

denim and twill clothing scraps, c. mid 20th c,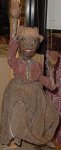 AFRICAN AMERICAN FEMALE ANTIQUE MARIONETTE

20" tall, articulated, 19th c


AFRICAN AMERICAN HOUSETOP, SWEET GUM LEAF ANTIQUE QUILT

80" x 84", c. 1940s-50s, cotton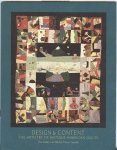 AFRICAN AMERICAN WORLD GEOGRAPHY ANTIQUE QUILT

80 X 98", rayon, cotton, silk, c. 1940-50s


AFRICAN AMERICAN SUITING SIGNATURES TITHING ANTIQUE QUILT Dial family AL.

wool suiting, c. first half 20th century


ALBUM ANTIQUE HOOKED RUG

2'9" x 3'7"


ALBUMIN ANTIQUE PHOTOGRAPHS of the 4 Seasons THORWALDSSEN

4 images in original gilt ocatgonal frameslptures


ALPHABET POSTAGE STAMP ANTIQUE QUILT red and white

c.1920s, 76" x 84" (double or queen bed), cotton, excellent untouched condition


AMERICAN FLAG 40 STARS ANTIQUE FLAG
AMERICAN FLAGS CENTENNIAL 1876 COMMEMORATIVE ANTIQUE QUILT

c. 1876; 80"square; cotton; Unused condition, minor water staining


AMERICAN FLAGS CROCHET BEDSPREAD

1930-40s, 78" x 84" (stretchy)


AMISH NEEDLEWORK PILLOWS vintage, several available

mostly 20" square or larger, wool, c. early 20th c


AMISH PLUSHWORK RAINBOW STARS ANTIQUE QUILT

c. early 20th c; 76" square (fits double bed); wool; Excellent condition


AMISH UNRAVELLED YARN ANTIQUE RUG

c.late 19th-early 20th c, 2' x 3', Very good condition, minor loss


ANN AUGUSTA REYNOLDS 1855 ANTIQUE FAMILY RECORD VERSE SAMPLER

dated 1855 wool on cotton


ANTIQUE FOOTSTOOL, crewelwork bird embroidered on blue wool

12" square top, 13" high


ANTIQUE GAMEBOARD - CORRESPONDENCE CHECKERBOARD reversible

SOLD


ANTIQUE GAMEBOARD - FAUX MARBLE REVERSE PAINTED GLASS IN FRAME

22" sq, c. early 20th c


ANTIQUE GAMEBOARD. PARQUETRY PARCHEESI AND CHECKERS, IN WOOD CASE

30" square, early 20th c, Pristine condition


SALE:
$ 1,075.00

$ 795.00





ANTIQUE MOTTO 'GOD BLESS OUR HOME'

original frame


ANTIQUE MOTTO - 'HOME SWEET HOME'

in original frame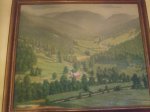 ANTIQUE PAINTING OF A FARMSTEAD AND MOUNTAINSIDE

original oil on canvas, by noted illustrator


ANTIQUE SAMPLER, MARY FOWLER, NEW YORK 1827

dated 1827, signed Mary A Fowler


SALE:
$ 4,500.00

$ 3,000.00





ANTIQUE SAMPLER, REBECA FRANCES 1839

dated 1839, 20" high x 19" wide


SALE:
$ 5,500.00

$ 4,000.00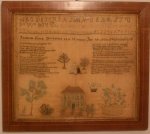 ANTIQUE SAMPLER, VERMONT, LUCINDA LAMB, TOWNSHEND

dated July 24,1820, 18" x 20"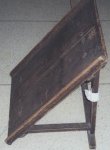 ANTIQUE TABLETOP EASEL for painting or books

" high x " wide