GIRL WITH CAT ON RUG ANTIQUE HOOKED RUG

c. 1950-60, wool yarn on burlap


HOLIDAY AND FLOWERS EMBROIDERED WOOL VINTAGE QUILT TOP

c. 1890-1900, 66" square, wool, Excellent condition


IRON VINTAGE HANGING LIGHT FIXTURE makes double hearts

4 light sockets


JOHN R. BYNG VINTAGE DRAWINGS group 2, see both listings

see other listing, various sizes, all are in color except one black and white


SALE:
$ 1,650.00

$ 1,150.00





JOHN R. BYNGE VINTAGE DRAWINGS group 2

various sizes, all are in colored ink and pencil except one


LABAN AND JACOB ANTIQUE NEEDLEWORK PICTURE, Frances Jane Southall

Victorian woolwork picture


MAMMIES APPLIQUE VINTAGE QUILT

cotton, c. 1940s-50s, 72" x 88"


PARQUETRY ANTIQUE ROUND PEDESTAL TABLE

48" diameter, 29" high


SALE:
$ 4,800.00

$ 3,800.00





PATRIOTIC BANNERS PIECED ANTIQUE COVERLET, WALL HANGING

c. 1890-1900, 60" square, wool felt


PENNY MAT OF 3-D RED FLOWERS IN SQUARE GRID

22" X 55", wool, c. early 20th c, stretcher mounted


PINE BURR or PRAIRIE POINTS VINTAGE PIECED QUILT

c.1920-40, cotton


SALE:
$ 2,450.00

$ 1,795.00





RAG CARPET RARE PICTORIAL SEASIDE SCENES ROOM SIZE ANTIQUE

7'2" x 8;3", unique


SAILOR'S MACRAME ANTIQUE BAG/PURSE

14" high, all original


SAILOR'S MACRAME ANTIQUE ROPE PICTURE FRAME

22" X 16' (check size)


SAILOR'S SILKWORK IN MEMORY OF MY CRUISE ANTIQUE FOLK ART

29 X 18 (check size)


SAILORS CRUISE SILKWORK ANTIQUE PICTURE

silk on silk embroidery, c. 1900


SCHERENSCHNITTE APPLIQUE ANTIQUE QUILT, PA. Mennonite; museum piece

c. 1890, 86" square (queen bed), cotton, Excellent strong condition, minor fade mark


SCHWENKFELDER EMBROIDERED ALBUM ANTIQUE QUILT

dated 1874, 80" square, wool


SOLOMON'S TEMPLE HANNAH JOHNSON'S SAMPLER
STAIRS in old blue green paint, 3 steps high

18" deep x 30" high check size


TARGET or PINE BURR PATRIOTIC ANTIQUE PIECED QUILT

80" x 84", cotton, c. turn of the 20th c


THEOREM ANTIQUE PAINTINGS ON VELVET - A PAIR OF BIRDS AND FLOWERS

in original maple frames. 19th century, on velvet


VENTRILOQUIST'S FIGURE AFRICAN AMERICAN MAN ANTIQUE

28" tall, moveable mouth, all original


SALE:
$ 2,450.00

$ 1,875.00





VINTAGE FOOTSTOOLS made of 7 tin cans in each

sizes vary, usually about " high x " wide


WILDCAT ON A TREE BRANCH ANTIQUE HOOKED RUG

late 19th c, wool on burlap


WORLD WAR I DOUGHBOYS, AMERICAN FLAGS ANTIQUE CROCHET SPREAD

c.1917, cotton crochet


WORLD WAR II MILITARY BASES SOUVENIR PILLOW FACES QUILT TOP

c. 1940s, 88" square, rayon


CYANOTYPE NEW ENGLAND COUNTRYSIDE ANTIQUE PHOTO TEXTILE

late 19th-early 20th - Frame: 30 1/4" x 19"| Image: 19 1/4" x 19" - Excellent condition


'MARY JONES FOR HER PARNTS' ANTIQUE NEEDLEWORK

dated 1850, 20" high x 20" wide, Excellent condition|


'PENNY MAT' ANTIQUE FOLK ART black and camel

c.1920, 2'1" x 3'4", out on approval


ALPHABET BOOK PAGES| framed

- 40 x 30 -


AMERICAN FLAGS CROCHET BEDSPREAD

1930-40s, 78" x 84" (stretchy)


ANTIQUE GAMEBOARD - CORRESPONDENCE CHECKERBOARD reversible

SOLD


ANTIQUE GAMEBOARD - FAUX MARBLE REVERSE PAINTED GLASS IN FRAME

22" sq, c. early 20th c


ANTIQUE GAMEBOARD. PARQUETRY PARCHEESI AND CHECKERS, IN WOOD CASE

30" square, early 20th c, Pristine condition


SALE:
$ 1,075.00

$ 795.00





ANTIQUE SAMPLER, REBECA FRANCES 1839

dated 1839, 20" high x 19" wide


SALE:
$ 5,500.00

$ 4,000.00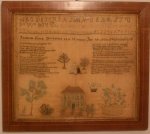 ANTIQUE SAMPLER, VERMONT, LUCINDA LAMB, TOWNSHEND

dated July 24,1820, 18" x 20"


ANTIQUE THEOREM -THE FOUNTAIN OF AEGERIA IN ROME

c. 1820, 27 1/2 x 22", velvet, original gilt frame, Excellent condition


ANTLERS (FAUX) HAND CARVED VINTAGE CHANDELIER

hand carved c.1970s, 50" across, 22" high


ARCHITECTURAL BUTTON PICTURE

- 30 x 45 - Excellent